We are solicited all the time by companies with the following pitch
"We have a huge database of opt-in email data based on zip code and demographics that we can mail your clients offers to."
A long time ago I actually took a company up on the offer and it did very very poorly.  Recently we were contacted by a company that I kind of knew from the affiliate marketing space with the same kind of product/offer.  I heard them out and decided to give it a try.  I have a Lincoln dealer that's looking for some more leads to boost up business so we decided to try mailing their offers through this companies system to see if this is a viable option.
The demographics and quantity we chose were as follows.
10 Miles Around The Dealership
Household Income of $100K or more.
83,334 Emails Sent (Based on Above Data)
The email creative we used was as follows (certain pieces blocked out for confidentiality)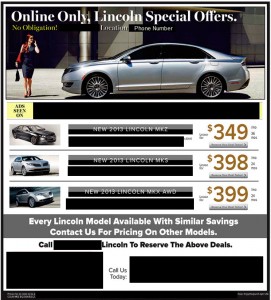 Then when they click through the email they go to a VERY similar landing page with a contact form: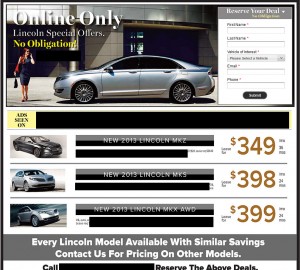 This setup allowed for complete tracking of the campaign.  The landing page had the ability to track email leads generated back to this campaign only.  The landing page AND the email had tracking phone numbers so that calls generated from the campaign could be tracked back to this campaign only as well.
Before the campaign began I spoke to some of my staff to get estimates of how many leads they thought this campaign would generate.  Granted some are artists or social media specialists so I wouldn't really expect them to make the best of estimations but here were the estimations nonetheless (I found this interesting so I thought you may as well)
Myself: 10
Artist: 60
Coder: 123
Social Media: 1,000 (I laughed too)
Other Artist: 80
So, as you can see our estimations were all over the map.
The email went out on Tuesday (as of this writing it's Thursday morning) and these are the stats on the campaign:

So that's 83,334 emails sent, 7502 Opens & 1102ish Clicks over to the landing page.  That's a 9%+ open rate which i'm actually really impressed with and it's a LOT higher then I expected.  If you would have asked me before the email was sent I would have guessed a 3% open rate.
The unfortunate thing here is that 0 leads were generated.  That's right ZERO.  Not ONE.  So everyone lost on the estimations (but I was closest even though I still would have lost on The Price is Right).  I'm actually really disappointing with the fact that no leads were generated.  I really would like to use this as a viable method of lead generation but every time i've tried it, it never provides a measurable ROI.
Even though i'm disappointed with the results I'm going to reserve judgement.  We have the ability to buy a list of the postal addresses of the openers and clickers (which i'm going to do).  I'm then going to ask the dealership for a list of everyone they sold a car to for the month.  We will then see if we can match any of these Openers/Clickers to a sale that was made at the dealership in the Month of May.  The theory here would be that the email triggered someone to walk in instead of email or call.  If there ARE matches then this could still be considered a success.
Find out what happens in Part 2