So by this point we all know that I handle some local clients.  This is a case study of how I generated $1,700,000 in auto sales for one of these clients despite a weak economy.  Let's set the stage:
"ABC Motors (fictitious name to protect the innocent) has a significant overstock of a particular model vehicle.  Let's call the vehicle the ABCmobile.  All of these vehicles are brand new, same options but they do have a variety of colors in stock.  ABC Motors picked these cars up dirt cheap from other dealers around the country.  Here's the catch.  The ABCmobile is a niche vehicle that does not sell well.  ABC Motors was baffled about how they should sell all of these ABCmobiles that were sitting in their lots collecting dust.  Newspaper Ads, Direct Mail, Billboards, Cable, Radio would all be a waste of money since these cars do not appeal to most anyone.  These cars needed to be moved fast and when you need to move inventory fast, you call Ad Hustler!"
This case study is about the steps I took to generate highly qualified leads and move these vehicles.
After speaking with the owner of ABC Motors I found out that there was some demographics data that I could use to my advantage.  The majority of the prospects who would be interested in purchasing an ABCmobile lived in about 10 states in the U.S..  ABC Motors had a hookup that made it possible to ship these cars affordably to any of these states, meaning that a deal could be closed over the phone.  I proposed that to get the most highly qualified traffic we do some Search Engine Marketing in conjunction with a landing page designed for this campaign.  Since Google Adwords has by far the most advanced regional targeting capabilities, I decided we would concentrate our effort there.
Step 1: I bought a domain.  I wanted something that would make it appear that we were associated with the manufacturer.  Since ABC Motors is a licensed franchisee of the manufacturer this isn't a huge stretch.  I got lucky and picked up the domain name 08ABCmobile.com as the vehicle we are selling is a 2008 ABC mobile.  I liked this domain and felt it would be great for quality score considering the relevancy.
Step 2: I setup wordpress on the main domain 08ABCmobile.com.  I created a simple blog about the vehicle.  It had 10 posts with vehicle information and details as well as a few articles I found and spun.  I also used wordpress to setup a simple contact page and privacy policy.  At the bottom of each post I linked to 08ABCmobile.com/offer which was the page the offer/actual landing page will reside on.  I link spammed this blog a bit to get it indexed into Google before going live with the campaign.
Step 3: 08ABCmobile.com/offer needed to be created.  We'll go into what I did with the landing page a little later.
Step 4: I setup a Google Adwords campaign targeting the geographic areas that I was told were particularly good.  I made 1 ad group and within that ad group bid on a few broad keywords.  Heres the general concept of what I did
08 ABC mobile
ABC mobile
ABCmobile
etc.
My goal here was to be bidding on only a few very relevant keywords and use negative keywords to get rid of the junk that would be searched for.  I started with the obvious negative keywords and then added to the list as I watched the sitelogs of what searches were leading to the site.  Here are some obvious negative keywords I used:
-parts
-service
-free
-used
-insurance
etc.
What this keyword method accomplished was generating large volume traffic that was still relevanct, and increasingly relevant as I got more data of what keywords paired with my main keywords converted.
The ads used in the campaign were pretty straight forward.  Since we were enticing people with a rather large discount off of MSRP, that was mentioned in the text ad.  We split test a bunch of ads to see what got the best click through rates.  Overall the campaign had 5%+ CTRs.
The landing page being used was a "thin" data collection page which is why we setup the wordpress blog earlier.  When I set the ads up, I directed all of the ads to 08ABCmobile.com.  I then set all the keywords at the keyword level to 08ABCmobile.com/offer – This resulted in a stellar quality score.
Those are the 5 main steps used to create this campaign.
Let's talk a little bit about the landing page.  I can't show you the landing pages due to an agreement with the client but that doesnt keep me from drawing you a rough diagram of what we did.
Landing Page 1:
My original thought was just to let the visitors get a quote on ABcmobile.  This would leave negotiation leeway between the dealership and prospect.  Here is a rough sketch of the original landing page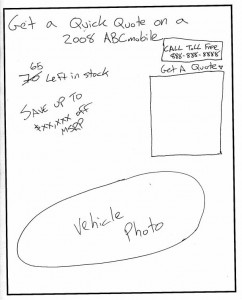 We found that a lot of the prospects were not as qualified as we may have hoped.  ie. virtual tire kickers.  The new idea was to just lay all of the information out there and if someone responded, they would surely be qualified:
Landing Page 2:
This was the winning landing page: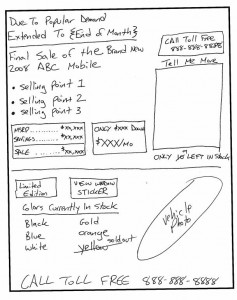 The above page is the one that generated the most leads and ran for the majority of the campaign.  Leads were tracked through the form as well as the tracking 800#.
Below are the stats of the campaign:
Total Ad Dollars Spent: $32,133
Clicks: 19,537
Email Leads: 852
Phone Calls: 647
Vehicles Sold: 68
Approximate Vehicle Sale Price: $25,000
Total Revenue: $1,700,000
After all of the negative things I told you guys about local, I wanted to show you a campaign that actually worked out for the client.  Online Advertising is going to be huge for local small to medium sized business in the years to come.  Print is dying and dollars are shifting.  Will you be a part of the action?