It's pretty well established that local online advertising is the next frontier. Local businesses have and will be jumping online to spend their advertising dollars. Local search has grown at an exponential rate over the last few years. I happen to have vast experience in the local search arena as I have done it for years. Local search is more difficult then national search for a few reasons. The clicks tend to be more expensive and the targeting is not all that precise. MSN's local targeting is almost non existent. Yahoo's is not too great as it only really targets on a DMA based level. Google boasts the most comprehensive local targeting out of any of the search engines. Unfortunately it has some major major problems that not everyone knows about.
Google targets local users in a number of ways but the main way is by IP address. IP address targeting is not all that reliable which makes Google's local targeting also not too reliable. Clicks also tend to be quite expensive.
For a current campaign, I'm paying $4-$6 per click for specific keywords related to my niche.  The traffic however converts very very well which makes up for the price. The region I'm targeting is a suburb of NYC. I am targeting it using the polygon tool in the targeting options of the Google Adwords account. Here is a screenshot: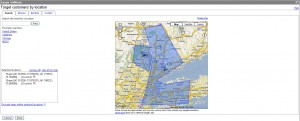 I also use Google Analytics to track my traffic.  This helps determine where visitors are coming from.  Here is a screenshot of the last 30 days: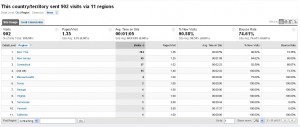 By looking at the targeting and the report all seems well.  The analytics report shows a few clicks from outside of my targeted area but nothing major.  No biggie right?  All is well in regional targeting world……NOT!  There are some major issues because a decent chunk of the leads being derived from the campaign are coming from WAY outside my targeted area.  Since I have full access to the leads generated I can see the users location.  Here are some examples of leads derived in the last 30 days and where they came from:
Central San Diego County, California
Jefferson City, Columbia, Missouri
Metropolitan Boston, Massachusetts
Central Dallas, Texas
New Hampshire
Buffalo, New York
Those are just a few examples of the leads derviced out of the last 900 or so clicks that are unacceptably outside my designated targeting area.  This problem has been going on for years.  Even though Google Analytics shows most of the traffic as within the area I'm targeting, something obviously is wrong since all of these leads are coming from outside the market area.
This is a problem that the internet advertising companies/networks are going to have to get right before local internet advertising is a viable and accepted advertising medium for small businesses.