I just got the most dreaded of all Google Adwords Editor messages: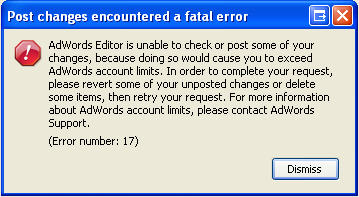 I loathe error number 17.  I happen to get it a lot because I launch a ton of campaigns.  The most common way to get this error is to have more then 25 active campaigns.  I loathe this message because it means more work for me.  I would much rather manage all of my campaigns in one Adwords account but of course Google has to make it difficult.  At this point I have 8 Adwords accounts.  Pulling data from 8 Adwords accounts and loading it into my tracker becomes cumbersome because I need to create and upload 8 different reports.
My plea to Google is this: Let the people spending money with you, spend their money easily.  There is no need to make our lives a royal pain in the you know what.  Let us run unlimited (or at least a realistic) number of campaigns in one account.
That is all for now.