All you hear is doom and gloom for affiliate marketing nowadays.  I propose that things are looking bright.
Lately you hear a lot of complaints from web surfers about the ads showing up on sites they frequent.  Web users say they don't like seeing ads.  Does this mean all of our traffic sources will dry up in the coming years as sites shift from ad supported to paid content models?
Forrester Research recently did a study asking "If the web sites for the newspapers and magazines you read were no longer free, how would you prefer to pay for that content?"
Here are the results of that study: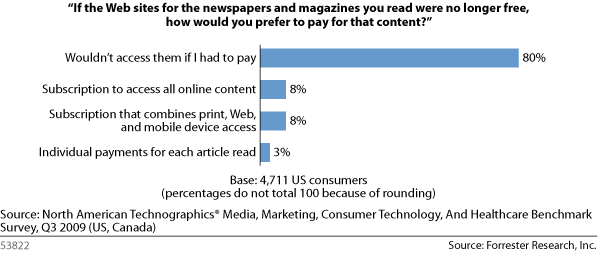 80% of users simply WOULDN'T ACCESS THE CONTENT ANYMORE.  Could that be a more promising statement of affiliate marketing's and online marketing's future?  I think not!
Web surfers are cheap bastards.  They expect endless and excellent content and all for free.  Businesses need to meet these expectations which means they need to support their business models in another way.  This means MORE ADVERTISING OPPORTUNITIES.  Booyakasha!
Advertisers themselves are using more and more metrics to determine their return on investments, shifting ad dollars into profitable placements.  Negative ROIs means that the advertiser stops running their ads through a given media source.  This means that content providers/media sources need to make sure that advertisers are achieving their objectives or they lose their ad dollars.  This translates into more affordable advertising and more self serve supply/demand ad systems like Adwords & Facebook Ads.
The future looks bright for us.  There will be more advertising opportunities, quite possibly at lower prices as the market fragments itself.
Stay in the game and stay compliant and you will be making the internet monies for years to come.