Mobile offers are not really something I've experimented much with until I began this blog.  If you've been following my case studies series, you would have seen that I have run approximately 10 tests on Social Media driven to various Mobile Crush Offers.  I didn't pick the SocialMedia/Crush combination out of the blue.  I've actually spoke directly to the owners of these offers and asked what was working.  During these conversations I heard time and again that Social type media was converting very well for Crush offers.  One stat I was quoted is that 1 in 15 Myspace users will convert on a crush offer.  Using those stats as a jumping point I initially chose SocialMedia, targeting Myspace as my traffic source.  Since the SocialMedia tests were not profitable I decided to target Myspace using another network: The Google Content Network.
The premise of this test is simple.  Here is the plan broken down:
Use Google Content Network Placement Targeting to obtain Myspace traffic.
Direct Link To The Offer
See If the average stats I was given holds up (Stat: 1 in 15 Myspace Users Convert)
Simple enough right?  So lets get to the meat here.  The following are the ads I used as well as the landing page of the offer: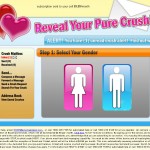 For this test I averaged a 35 cent click price and let it run for 95 clicks: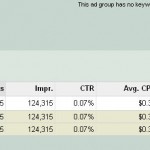 Here is how each ad performed individually: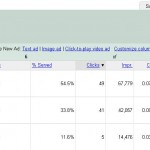 So how did these 95 clicks convert?
Clicks Reported On Network: 95
Conversions: 1
Payout: $9.50
Conversion Rate: 1.05%
EPC: .10 Cents
My total cost for this test was $32.99 and I made back $9.50.  This is a net loss of $23.49.  In the end 1 out of 95 clicks converted to a lead.  The stat I was given of 1 in 15 Myspace users convert does not seem to hold up on the Google Content Network either.  My stats actually seem to be fairly consistent for Myspace across SocialMedia & Google Content Network.  The best SocialMedia test yielded a 1 in 108 conversion rate.  This Content Network test yielded 1 in 95 conversion rate.  The two networks actually were not way off from each other.
Although the talk of Crush Offers doing well, seems to rum rampant in affiliate marketing circles such as:
Wickedfires: Ringtones Vs Crush Offers
NickyCakes: You Have (3) New Eurotrash Crush Messages!!!
I am not yet able to produce a positive ROI with it using direct linking and SocialMedia or Google Content Network targeting Myspace, as the traffic source.