List Building & Email Marketing Case Study Part 1 was about setting up the double opt in, getting subscribers and trying to monetize the list immediately.  Overall it was a success.  Part 2 of this case study revolves around the first series of emails sent to the list.
My goal with the first series of emails was to not try to sell anything too early on.  I wanted to develop a relationship (even if it's a small one) by delivering content and THEN hitting them with an offer.  I will break the case study down into an explanation of each email, that emails results and then a summary after i discuss each email in the series.  One preface is that the numbers don't all match up to 100 which is the amount of subscribers we started with on this list.  I screwed something up with the segmentation on the autoresponder which means it didn't get sent to about 25% of the list.
Email #1 – 1 Day After Subscription
This email was an introduction about "myself" and the series.  I made up a fake persona letting subscribers know that I am an authority in the niche and gave them a little insight about what kind of content they would be receiving.  There are no links in this email other then unsubscribe.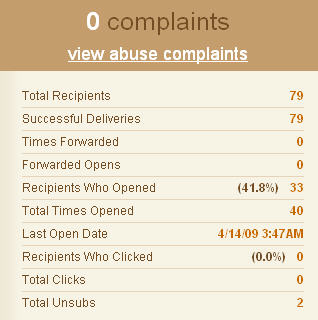 Email #2 – 2 Days After Subscription
This is the first content based email sent out to the list.  I reintroduce myself in the first paragraph and then give them some good niche related content.  There are no links in this email other then unsubscribe.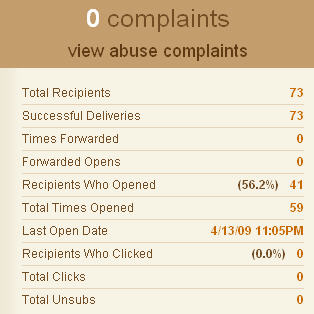 Email #3 – 3 Days After Subscription
This is also a content based email with no sell in it.  The only thing I did different in this email compared to the previous one is that I tried putting a very unobtrusive message across the top saying – This Tip Is Sponsored By "BigNameInTheIndustry.com" – I linked it up to a big CJ merchant just to see if anyone clicked it.  No one did so far.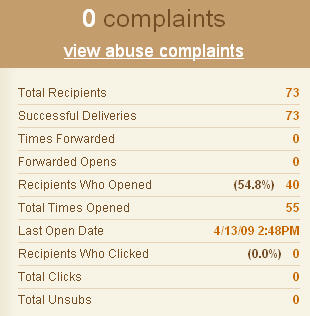 Email #4 – 4 Days After Subscription – **THE BIG OFFER**
Ladies & Gents, the day we have all been waiting for.  Offer #1 was sent to the list in this email.  I approached the sell as, my friend is releasing a particular product related to this niche and giving my subscribers first crack at it.  I have personally used the product and it did wonders for me.  Here are the results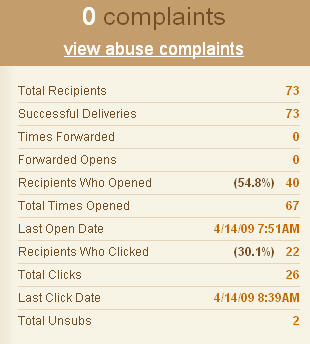 Email #5 – 6 Days After Subscription
This email is content driven as well.  It also has a P.S. at the bottom saying that there is limited availability on Email #4′s offer.  My friend is offering 5 more positions but I talked him into giving us 10.  If you want to take advantage do it now kind of wording.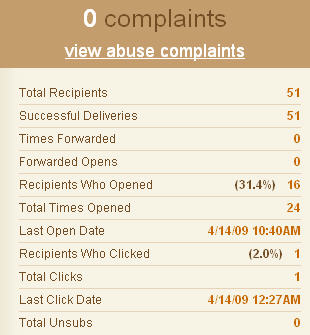 Let's Discuss
As you can see my open rates were off the hizzle.  They ranged from 31%-56%.  I think any mailer can tell you that's really good.  My click through rate on email #3 was non existant.  That sort of surprised me.  I thought that the subtle "sponsored by" message at the top would get a few clicks.  On email #4 (The Big Offer) I really had no idea whatsoever what to expect.  I can tell you that I ran this same offer on PPC and it converted at about 1% so I was hoping it would do better then that considering these subscribers were being groomed and also were extremely related to the product.
Email #4 had 73 total recipients to date.  40 opened the email (54.8%) and 22 clicked through to the offer (30.1%).  Those are all good statistics.  There are a few statistics I find really interesting though.  Although 40 unique people opened the email they opened it 67 times.  I'm wondering if this means they are interested in the offer but just not sure yet so they leave it in their inbox to read again later.  Out of the 73 recipients that received email #4, 1 bought the product earning me a $31 commission.
Back To The Financials
Number Of PPC Clicks: 436
Number Of Double Opt In Subscribers: 100
Click To Subscriber Conversion Rate: 22.93%
Average CPC: 28 Cents
Raw Cost For Clicks: $123.55
Clicks To Email Submit On Page 3:  71
Conversions: 37
Offer Payout: $1.30
Subtotal Revenue: $48.10
Conversions On Email #4: 1
Offer Payout: $31
Subtotal Revenue: $31
NET PROFIT/LOSS: -$44.45
A few things to note here are as follows:
Not everyone on the list has made it all the way through the series yet.
There could possibly be late conversions
I still have about 100 subscribers to my list
One thing that is painful about this process is that it takes a really long time to measure your return on investment.  With PPC i'm used to knowing how I'm doing on an hourly basis.  With email it could be a week or more before I determine if I'm making a profit or not.  I am still down $44.  That's not bad considering this is a first test in list building and email marketing.  Recouping that $44 should not be difficult.  I can blast the list with an offer any time and someone is bound to take me up on it.  I will update in a few days to let you all know if I've turned a profit or not.